It's that time of year again. BDF's Young Dancers Workshop kicked off today. We have a stellar faculty and performances lined up by Camille A. Brown and Prometheus Dance.
To get the latest BDF stories, check out the following:
… and of course right here!
Be prepared for the creative intersection between dance and media. As technology advances, our stories as dancers become more bountiful and complex. So, we excel at storytelling here at BDF. As Director Laura Faure put it:
"Dance is the vehicle to discover who you are in the world."
In everything that we do, BDF will make sure that this vehicle becomes more clear, essential, and accessible for you. And of course, we will have fun doing it.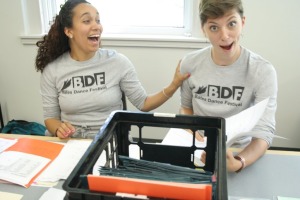 This post was written by Ashley Yergens. Ashley is a BDF Social Media Intern for the 2014 summer.