Each year, the Bates Dance Festival hosts a handful of artists from abroad through its' International Visiting Artists Program offering a three week creative residency in which to research and develop new work, advance their studies, network with peers from around the U.S., and showcase their talent on the "Different Voices" concert.
We saw these guest artists improvise together in the "Moving in the Moment" performance on July 29th. This was the first time the BDF participants saw these visitors move outside of the classroom setting. It was a fascinating introduction to see the visiting artists, faculty and staff  in this raw way as dancers and creators.
This year, one of those artists is Finnish choreographer, Ima Iduozee. During "Moving in the Moment," we were introduced to his mythic, yet approachable presence. Long-limbed, towering over many in the room, he danced with an organic balance of power and grace. I was struck by his openness to drastic and dramatic emotional shifts as well as his availability to play with more subtle movement qualities.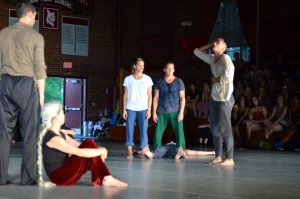 At the "Different Voices" performances on August 6th and 7th, Ima will be presenting an excerpt from his solo work, This is the title, which he has been touring since 2012. In July of this year, he received the annual honorary prize of the Finnish Critics' Association, Critics' Spurs, an "acknowledgment of the best artistic breakthrough for a young artist during the year."
I sat down with Ima for lunch last week to talk about his background, creative process, and experiences at BDF.
"I'm from Helsinki, the capital city of Finland, that's where I'm based. I started dancing when I was ten years old, breaking, break-dancing. I was fascinated by the whole culture and scene inspired by some of those early New York b-boys back then. I was very intensely involved with the b-boy community and breaking, we traveled across Europe doing exhibition battles, competitions and shows."
"At some point, I felt like there was more out there as far as physical expression, and movement in general, so I stumbled upon contemporary dance, modern dance, and started working in musicals. So I was put into a position where I had to learn other ways of expressing through movement, not only through breaking."
Iduozee studied contemporary dance at the University of the Arts Helsinki where they integrated many different techniques for him to put in his toolbox, including somatics, composition, and voice coaching. "After 2009, I started working for a few different directors and contemporary choreographers in Helsinki, doing physical theater, contemporary dance and modern dance." He has worked with choreographers Arja Tiili, Sebastien Ramirez, Sonya Lindfors, and Tero Saarinen, to name a few. "I've been working as a freelancer, both as a choreographer and as a performer."
I wondered if his transition from the break dance/street dance world to musicals and contemporary dance was a natural progression. He told me that the shift was "very organic… It was actually a soft landing, already I saw myself going a different path."
Those influences have carried into his work now, however, he is hyper-aware of the cultural context of these styles of movement. He is mindful of how people label recognizable styles of dance, and does not want those labels to be a defining factor of how he creates. "I am interested in the human body, the corpse, and all that information that we carry with us in our DNA from long ago, from our ancestors. I use the tools that I have. I'm not interested in any certain style or genre of dance, I'm interested in movement and physical expression – physical gestures and that age of wisdom that we have with us in our bodies. So I will use and study whatever other style or convention is necessary. And I use all of that, I don't separate or segregate them from each other."
He took a breath and continued, "I have to emphasize that in order for one to fuse different styles or genres together, one must first learn the tradition and the history. It's an ethical responsibility. You can't just copy and paste without actually paying respect to the tradition of each genre. I just wanted to say that… I think it's important. It's a responsibility for artists to do so."
We then moved on to his introduction to Bates Dance Festival, and how he came to Maine after only having visited the US one other time.
"I've been touring my debut solo around Europe for a few years, since 2012, and Laura [Faure] saw my piece at the Nordic Platform: ICE HOT  Festival  in Oslo, Norway last December. It was a contemporary dance festival, where they invited international curators, buyers, and organizers from all over the world to see what is happening in the Nordic contemporary dance scene.  Laura saw my work there, This is the title…" He chuckled, "that is the title of my work." He could sense that I had missed that indication in the flow of the conversation. "Yeah, and she invited me here to perform an excerpt from that piece, to participate in some workshops if I wanted to, and to concentrate on my artistic work in residency."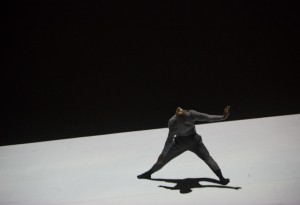 "So I've been working on my next creation here, doing some research and trying to gather some material." His next production is a commissioned work from the Stockholm City Theater, it will premier on October 31st. "I have three incredible performers dancing for me in that piece, so I'm moving to Stockholm next month to start working and start rehearsals. This is preparation, preliminary research, generating some material and ideas."
"I've been working on the opening scene or last scene, but I'm not sure yet. I'm trying to figure out some movement motifs that I can then recycle, reconstruct, play around with, and later compose something concrete when I start working with the dancers in the studio."
Before the showing, he shared with me about the genesis of that material. "I'll be showing a short, very raw sequence I have gathered." One of the scores in his new piece, Purple Nights, is "a metamorphosis from contemporary man, to neanderthal, to ape, to fish, to the single cell and maybe a reverse evolution." He has been exploring the essence of the primal man from pre-verbal conditions, as impetus for the material he shared with the BDF community on Sunday.
The title, Purple Nights is a provocative image, a dreamy landscape. "It was from Herman Hesse, his novel called ystävykset… [translation: Pictor's metamorphoses and other fantasies] is about a student who studies poetic literature. The name of one of the books he was reading was Purple Nights. I was trying to figure out what that would actually be. For me, it's a surrealistic landscape, a poetic state of mind, which I was very fascinated by. And I thought that it suits the work I will be presenting in Stockholm."
On August 2nd, there was an informal showing for the visiting artists to share what they have been working on while at the Festival.  At the showing, Ima shared what he had developed so far for this project, as a work in progress. Even in this preliminary draft form, his porous state of being and creature-like physicality was mesmerizing, mysterious, and utterly captivating.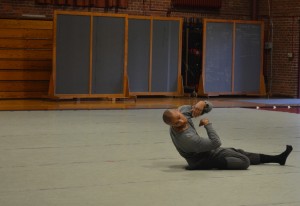 "I have to say that I feel quite fortunate to be here," he said on his experience here at BDF. "To get the chance to work in residency without in residency without having to come up with any specific product at the end of the three weeks. I can work as much or as little as I want to, I'm only responsible to myself and that gives me a lot of free creative space to work with."
"I also have the chance to participate in other workshops with incredible teachers who are here." Ima emphasized on the importance of  having discussions with the other choreographers and artists in residency, "I get to feed my own thoughts as well. For me, that's what residency is all about. It's about you diving in to the choreographic practice with a bunch of people who are interested in creating work and proposing something worth while."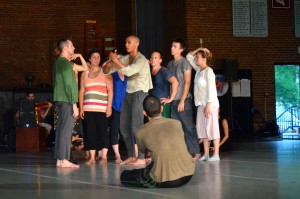 "And also the weather's been great, the food is great, I can't complain, I've had a blast!"
In addition to Ima Iduozee there is a diverse and exciting group of guest artists who are in residency at BDF this summer who will be performing in the concert "Different Voices" August 6th and 7th.
All of these artists have been teaching, taking class,  exchanging thoughts, creating new work, and are woven into the fabric of the festival. This creates a diverse environment of creators, students, and practitioners alike, all of whom exemplify BDF's cooperative and supportive environment.
Photo Credit from "This is the title": Lorenzo Passoni
This post was written by Meghan Carmichael.  Meghan is the BDF Social Media Intern for the 2015 summer.