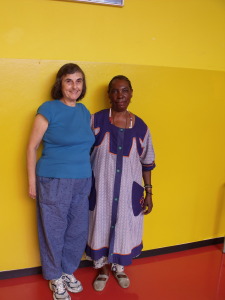 Today we meet with Sylvia Glasser who I first got to know in 1999. She gives us a tour of their beautiful new building, introduces the staff and fills us in on recent developments. In the lobby Sylvia tells me she wants to introduce me to a very special person. A petite older woman is washing the floors with her back to us. She turns and I see Vincent. This is his mother. I give her a big hug. The encounter brings tears to my eyes. She has worked all her life as a cleaning woman and her son has become an international dance sensation. We visit and take some photos. It is so lovely to meet a family member of an artist I have known for a long time.
We attend the afternoon talk with Eric Languet from Reunion Island and Boyzie Cekwana. Erik's three dancers are performing a work, "Faux Ciels" (Fake Skies) about prostitution in which one audience member pays for a solo performance by a dancer in a private room. Only 10 people can see the show each night. The dancers repeat the performance for each individual audience member.  For their research the dancers visited strip clubs and interviewed prostitutes. Each dancer created their own individual solo. The piece has been performed in the street with the dancers 'soliciting' customers. It deals with dance as prostitution. Erik regards beig a classical ballet dancer as a form of selling oneself — not thinking, performing the steps and looking beautiful.  Erik was a classical dancer who became disenchanted with ballet. He went on to be a member of DV8 where his eyes were opened to an issue-based way of working. Erik notes seeing CandoCo which totally changed his perception of how dancers can communicate who they are.
Boyzie talks about his new work,  "Influx Controls: I wanna be wanna be" described in the program as an "asphyxiated cry for total and ultimate assumption of full humanity. 'I wanna be' is 'I Wanna Be White' since whiteness is goodness; whiteness is having in a world of have-notness." Part performance part installation, Boyzie collaborated with his nephew who designed the costume and serves a set person in the work. "I wanna be…" deals with questions of identity in its various forms and fallacies.  The idea for the piece came from a trip to the Congo where Boyzie came face to face with the "living legacy of colonialism." He notes that in South Africa "we have found ways to brush over our own issues with colonialism –and continue to buy a glossy portrayal of our contemporary existence."  I am in awe of Boyzie's intelligence and articulation. He is one deep thinker.
This evening we attend a shared program of works by Dada Masilo and Luyanda Sidiya. Dada's piece, "Umfula Wa Ma Dada" is a mock ballet in white tutus set to Tchaikovsky.  It was created for a large group of students from Israel with a few locals thrown in. Dada is the soloist and dazzles with her verve. The finale includes some itty bitty dancers who are adorable and amazingly adept.
Luyanda's piece, "Indlela" is inspired by the different paths people take to find themselves.  It features three extraordinary musicians, two percussionists, a guitar player and singer. The scene opens with the musicians framed in the arches of the back wall of the stage in low light. They gradually emerge onto a set of steps across the back of the stage space. The music is truly transporting and it is hard to focus on the dancing.  The piece begins very slowly. The lighting and costumes are beautiful, the dancers very proficient, but the dynamics of the choreography don't vary enough to keep my interest.