Emerging choreographer Scotty Hardwig, with long time collaborator and performer Keanu Forrest Brady, talk about the process of building a new installation performance project for the Different Voices concert at Bates Dance Festival, 2015.
[Transcript 7/27/15]
Scotty:   So, Keanu and I are down here in the Blackbox Theatre underneath Schaeffer working on this new installation performance project (title TBA!), which involves a multi-projector installation with costumes designed by Trinidadian visual artist Kern Samuel. It's a process that involves heavy computer coding and Kinect infrared motion tracking, when we first got here to the space we had been rehearsing the piece two weeks prior to getting here, and we finally got to the space and then we had to kind of re-orient the vision of what the space was going to look like with this installation because it's a different kind of space than the one we were rehearsing in. And when we're dealing with lots of projectors and lots of designs, there's so many things to consider like angle of light, the content of the projection, how's it going to affect the movement vocabulary, are the walls flat or not flat, all these sort of textural and design element.
Keanu: So much going on!
Scotty: Yeah, it's all been really crucial in this first week of just sort of designing, playing around, seeing what works, hanging things up, taking things down, hanging them back up again.
Keanu: And it's finally getting really close to a final skeleton to build off of, it's getting really exciting every idea that gets developed, then we switch gears, and then we get a better idea, and so we have to redo everything and it's a struggle but it's great, it's part of the process – all an experiment.
Scotty: In the end I just went with my original idea for the projections which was to have the projections against the walls, which was my original idea – we tried it on the floor – the thing is we're dealing with four different projectors with four computers, so there's kind of this massive technological element to what's happening.
Keanu: I'm getting the chance to learn a lot about what's going on behind the scenes, I'm learning all the cable names, all these new handy dandy slang terms.
Scotty: That's right! HDMI, DVI, VGA, Thunderbolt, all of those 80s rock bands.
Keanu: Yes!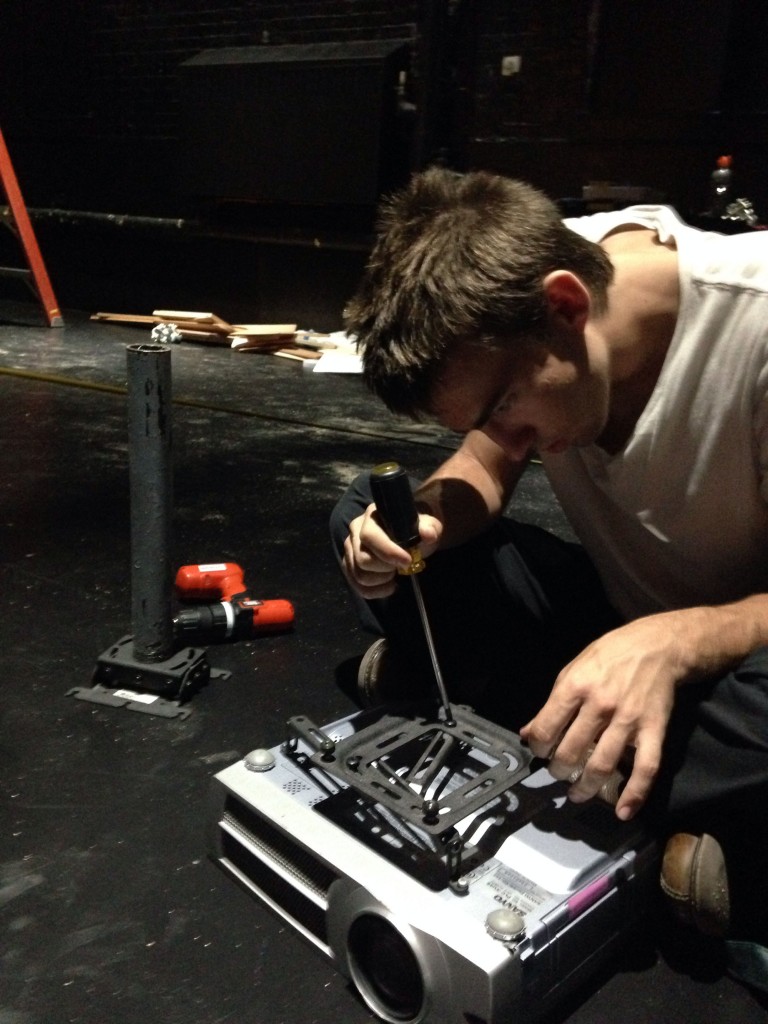 Scotty: It's going really well, but it's always like this at the beginning of an installation, you're sort of like "Ok, well how are these things all going to function logistically" – and so on the first level I have to think practically as a digital artist, like where are the cables going to go, where is my power source, where is the computers going to be, where is the audience going to be, and Shawn Hove has been really helpful in assisting us.
Keanu: Oh, he's been amazing! Shawn's been amazing, thank you Shawn!
Scotty: Shawn is helping us figure out how the audience flow is going to be, when it's going to be shown because it's not a proscenium piece and how that functions with the Different Voices concert that's happening at the end of the festival on the last Thursday and Friday. The concert starts at 7:30pm, but we're going to be running the installation 45 minutes prior to the start of each show, so we'll be performing from about 6:45pm to 7:25pm on August 6 & 7 in the Blackbox under Schaeffer.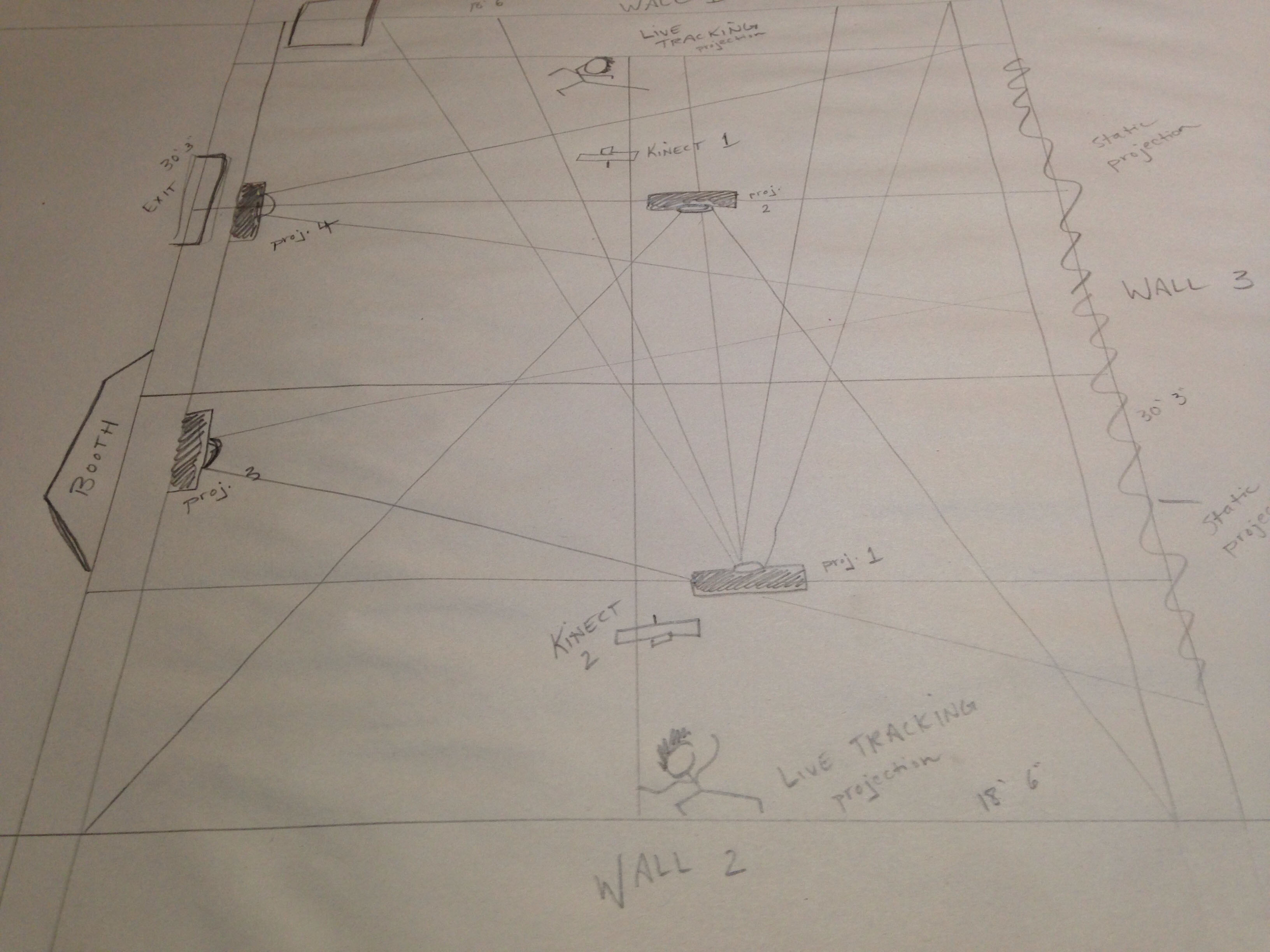 Scotty: So, it's been a lot of work just coming in after classes, feeling our bodies aching and having to lift heavy projectors…
Keanu: and ladders…
Scotty: and ladders…
Keanu: and building things, breaking things down… we built housings for all these projectors because we didn't know we had the housings for them, and then Shawn came in and brought us some housing units, had to take those apart, it's just been a blast, holy cow!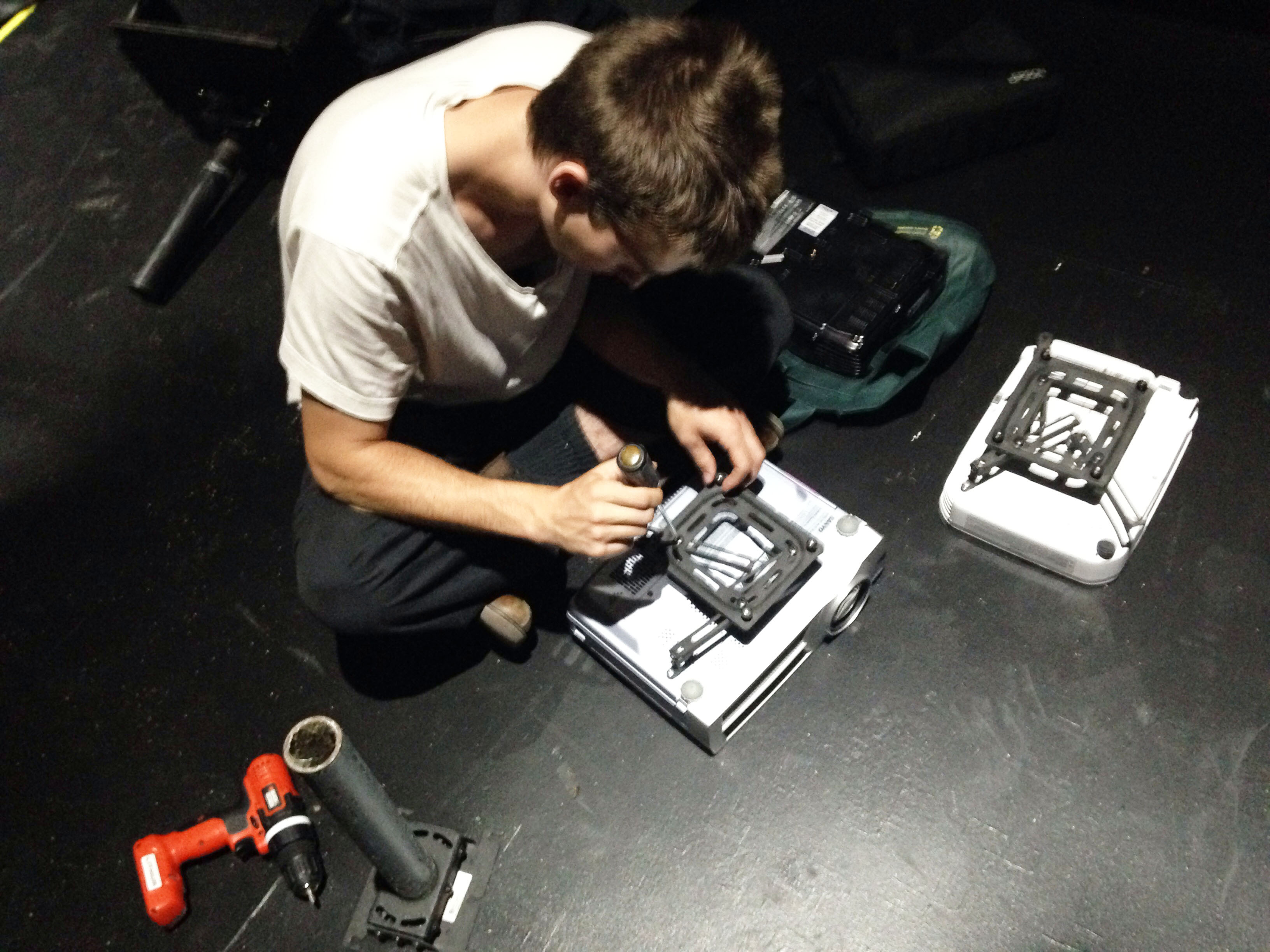 Scotty: So we've kind of arrived at a place where we think the design elements are functioning well and the projectors are hung, so we can actually start building the movement, which for me is always one of the first things I think about when I'm working with technology and how the software and the coding can interact with the movement in an organic way, so that it's an evolving dialogue between the human body and the technical elements involved – flesh and technos merging together to create a overarching image. So the designs for this piece that I programmed are based on algorithmic fractals from a statistical formula that mimics the controlled random appearance of textures in nature (called Perlin Noise), creating patterns that look almost like vines or smoke, blood vessels or tree branches, in this technologically mediated organic space where the human body becomes an outgrowth of the cyberplay.
Scotty: So, we're looking forward to the piece, it's going to be a lot of work, but we're on the trail. We're on the journey. Scotty and Keanu out.