We began the day at Dance Space attending an incredibly informative discussion. The first section led by dance writer, Adrienne Sichel, focused on the history and development of South Africa dance which is the basis of her newly completed book that we all hope will find a publisher soon! Worth mentioning is the fact that not until the 90's were there policies in place to allow/support dance participation and activities by black South African artists. It was acknowledged that, as is so in the US and elsewhere, the younger generation often does not learn about the history and context of the forms they practice. This was an effort to establish context for everyone in the room and stress the need to disseminate historical information more broadly.
Attending were artists of all ages as well as programmers from Europe. The conversation moved on to the importance, and many failed attempts, to establish an enduring dance network. Several efforts were referenced that have not survived. At issue were the problems of artists not being willing to work on behalf of the larger good of the whole arts community, not being able to agree on strategy, and not being able to muster the extra energy required to keep up the fight, among others. Everyone seemed to agree that the lack of funding was a major challenge to moving any initiative forward.  Impassioned pleas were made for the community to join forces to advocate for the performing arts sector noting that ONLY if people join together do they have the power to effect change. There was an obvious sense of frustration that the dance community was very fractured and a united front has not been established. Several individuals shared existing network models such as Arterial Network and IETM that might be taken advantage of.  European and US attendees chimed in that these problems are not unique to South Africa but that we have each faced the challenge of finding agreement in order to advance a cause. Many excellent comments were added to the discussion including Germain Acogny's that "poverty is big business" and it is imperative to show the other side of Africa to the world — one of  beauty and richness, one that is intelligent, innovative and contemporary. To combat the  images of the media that only shows war, poverty and despair.
Today was a big day for our small Africa Consortium contingent as we convened a meeting over lunch with some of our artists partners (Boyzie Cekwana, Panaibra Gabriel, Faustin Linyekula, and his wife, Virginie) to visit, learn of everyone's recent activities and discuss potential next steps for the consortium. Sadly we were missing several of our partners (Opiyo Okach, Neli Xaba, Gregory Maqoma, Cathy Zimmerman-MAPP International, Ken Foster-Yerba Buena, Vivian Philips-Seattle Theater, Shay Wafer-651 Arts, Joan Frosch-University of Florida-Gainesville, and Philip Bither-Walker Art Center). But Marc Bamuthi Joseph (now curator of performing arts at Yerba Buena Center for the Arts), and Mamela Nyamza joined us for the first time.
Every time I have an opportunity to meet and listen to these amazing artists (and my esteemed colleagues) I learn more about their interests and point of view, their strategies for achieving their goals despite very challenging conditions, and their incredible perseverance and commitment to their home communities. Each are building infrastructure to support and grow contemporary dance and sustainable communities in Kisangani (Congo), Maputo (Mozambique), and Durban (South Africa). Many more efforts are underway across Africa.  The rub is that nearly all the support to realize these projects comes from Europe often with desired outcomes attached. Most commonly the Europeans seems to be interested in investing in the development of work for export.  Our artist colleagues noted their strong interest in seeing the direction of this flow reverse so that work is being made for African audiences and a system for touring it on the continent comes into being.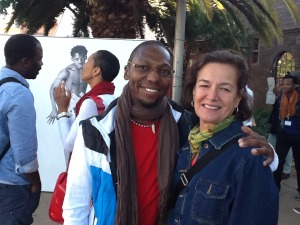 From our meeting we headed off to Wits Theatre to see Vincent Mantsoe perform his newest solo, "Skwatta" (meaning camps). No one inhabits the stage the way Vincent does nor embodies the story/character/aura/spirit of the work. He is unique among performers. We bear witness as he travels to another world and back again. His intent and focus are transmitted through every fiber of his being. His movement has a sharpness and clarity that is remarkable. As we watch time is suspended and we enter a rare world with him. The local audience seems delighted to have their hometown star on stage and showed their appreciation.
Then we shuttled back to Newtown to the bus factory for a site performance by Sello Pesa that took place on a main thoroughfare. Mind you it was 5pm rush hour. The audience lined up on one side of the street in front of an abandoned lot while a cast of proper ladies and gents sat in chairs across the way listening to a formal and vacuous speech on urban renewal being recited over and over again. Near the end of the piece a fancy black car pulled up to take the speaker away. Meanwhile Sello and another dancer proceeded to roll out into the street, run through traffic, drag 50 gallon oil barrels across the road,  and generally put us all on edge. It was hard to watch. A third dancer in a motorcycle helmet rolled his head up and down  along a wall that bordered the sidewalk. After awhile this actually lost its agency and we wandered off for the next show at Dance Factory.
It was another very long day of dance watching and we returned to Melville very late and starving. Fortunately we were able to persuade one 7th street restaurant kitchen to reopen and feed us all. So pasta at 12:30pm and straight to bed, ugh! 7th St is the one commercial street in our cool neighborhood. Its lined with bars, restaurants and shops and all of six blocks long. Its a real scene on the weekends with the bass pounding into the wee hours.
On a few of our days we were able to carve out time for lunch at our favorite restaurant, The Lucky Bean, which serves divine food and wine. Fortunately our mornings were sometimes free. Otherwise I would not have written a word.  As it is I am having trouble keeping up and remembering what we saw from day to day.