This morning I had time to enjoy a delicious breakfast at our guest  house, Thulani Lodge in Melville and begin blogging. My intent is simply to report on our activities as a form of archive, and in hopes that someone might find it of interest.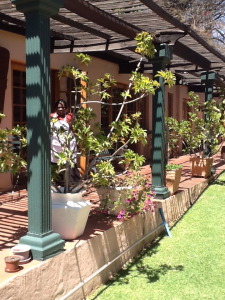 Upon arriving in Newtown at lunchtime I was immediately swept up with a gang headed to the Africa Museum for an exhibit on Black Music. Having been disappointed by the museum on my last visit I did not have high hopes, but in fact this is a spectacular, comprehensive and accurate survey of the very large subject of black music and its influence across the new world and back again.
In a highly interactive media format one could walk through six rooms watching videos and listening to music from across the continent and around the Americas. Defined by geography, individual artists and social/religious/political influences this is a truly fabulous exhibit for anyone, like me, who has been a lifelong student and fan of all black music. I sampled the lives of Michael Jackson and Fela, watched videos on west, east and central African music, and was carried away as Celia Cruz rocked a Havana concert crowd. Sadly this show will not travel to the US. But here is a link to more info: http://www.blackmusicworldwide.com/
Then a lovely serendipitous lunch with Panaibra Gabriel of Mozambique, who was a guest artist at BDF in 2010. We had a good catchup and discussed a potential collaboration between his "Independence Project" (working with multi-abled dancers) and AXIS Dance Company, that I hope we can help realize in the coming years.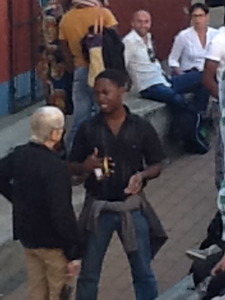 Next we saw another marathon series of performances by Hafiz Dhaou & Aicha M'Barek (Tunisia), Jerome Brabant (La Reunion), Ahmed Khemis (Tunisia/Algeria) (on video due to technical problems), Yuhl Headman (South Africa) and finally a wonderful collaborative work in progress by Gregory Maqoma (South Africa)  and Florent Mahoukou (Congo).
These last five performance took place at the brand new and shiny Soweto Theatre complex which contains three differently scaled theater spaces plus and outdoor terrace designed for a range of activities. The glass front looks out over Soweto and last night the full moon was rising – a magical sight.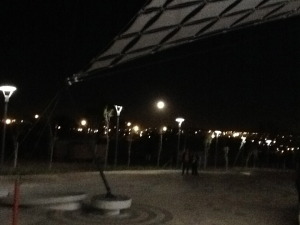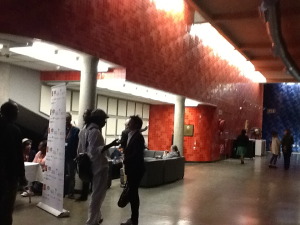 In between shows I was delighted to be able to catchup with my friend, Gregory Maqoma and hatch a plan for lunch. Dare I admit, the intermissions are sometime the most valuable and fun part, a chance to schmooze with friends and meet some of the many amazing artists who are part of the platform.
What a treat to once again see my dear friend and extraordinary artist, Vincent Sekwati Mantsoe, one of the leading lights of the South African dance scene who now lives in France. We have been very lucky to have Vincent grace our stage on many occasions as well as offer killer classes. He and Gregory Maqoma
began dancing together in the streets of Soweto and then studied formally at Moving Into Dance under the guidance of Syliva Glasser who has been an important mentor for many SA dance artists over many years.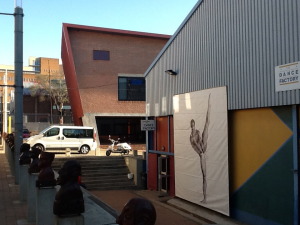 On our drive out to Soweto I sat with Vincent (and Kyle Abraham) who shared stories of growing up in the 'hood', and of  spotting the Zulu warriors, from the school house roof, as they approached during the war.  The kids ran like hell so as to not be hacked to death. Lucky for Vincent, and all of us, that his only war wounds are from going through a glass window or under a metal fence! These artists have lived through many things us soft American will never experience.
While others went off to dance the night away at one of the many local bars in Melville I tucked in for a cozy sleep. A demain!