As the BDF social media intern, I am spoiled rotten. Seriously. I get to investigate DanceMotion USA's residency with David Dorfman, Korhan Basaran's group of Turkish dancers, and two Armenian dancers. I pop in and out of classes led by stellar faculty such as Jennifer Nugent and Cathy Young. I even get bits of wisdom from Meredith Lyons and Laura Faure on arts administration. I am privileged to experience this festival from such diverse and knowledgeable perspectives.
In a past post, I shared my "fly on the wall" perspective regarding the type of creative courage that BDF creates:
"At this festival, it's about getting back to that very human thing. As dancers, our duty is to connect to other human beings. Even if you just pick one person that you can impact for the better, with work that might not work — that is vulnerability and art in its highest form. It's giving what you can give, and taking everything that you can take."
While our Professional Training Program succeeds at doing this, there is another program that brings us even closer to our humanity. It's a program that invites youth and teens from the Lewiston/Auburn area to join the festival.
This summer marks the 21st year of our Youth Arts Program (YAP). As soon as registration opened, participants signed up quickly. This comes as no surprise. YAP engages youth ages 7-16 in an encouraging and intensive three weeks of dance, yoga, music, theater, visual arts, storytelling, poetry and writing.
Now, I know you already know all about the benefits of the arts because you read a certain previous post. However, I need to reiterate one thing: In order to fully cultivate a culture of curiosity and diversity, we need youth arts programs. More specifically, the Lewiston/Auburn area needs YAP.
RELATED: Read "From Play to Purpose" here.
As the world continues to change, students' stories become more bountiful and complex. In everything that YAP does, the program wants to make sure that these stories are fully realized and innovatively communicated. By producing dance and other forms of art, YAP youth go above and beyond the average classroom lessons. They practice tolerance. They become upstanding citizens of a globalized world. Most incredibly, YAP students teach adults how to be human again … Let's face it. We tend to forget what really matters every once in a while.
So, what's the best part of my job? It's listening to kids as they explain problem-solving, generosity, and how our world would improve if we all had a "better together" mindset.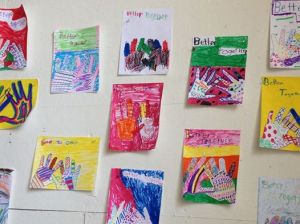 This post was written by Ashley Yergens. Ashley is the BDF Social Media Intern for the 2014 summer.