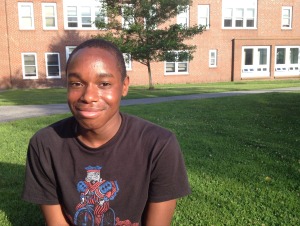 Name: Robert
Hometown: Virginia Beach, Virginia
Studies: I've done modern, ballet, and some improv.
What do you respect most about dancers? Their resilience. The "stick to it" attitude. They don't give up.
What is your biggest movement indulgence? A really deep lunge or a random turn.
Advice to other dancers: Don't give up even if you get really tired of what you're doing. Also, find other people who enjoy dance as much as you enjoy it.
Major influences: I like drums. I have a little bit of a hip-hop influence. Just a little bit though.
How has BDF Young Dancers Workshop inspired you? It's opened my eyes to a whole new world of dance. You can do other things that you're not used to doing. Also, I've made a lot of good connections here.
This post was written by Ashley Yergens. Ashley is a Social Media Intern for the 2014 summer.