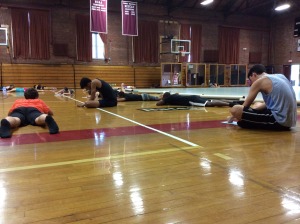 Yesterday, counselors led a juicy choreography workshop. BDF Young Dancers had an opportunity to free write with the prompt: "I remember ________". Next, they imagined those words into movement. From there, the dancers divided up into groups of three, sequenced their phrase material, and conquered their first choreography task.
It is often said that there is great power in the word, but even greater power in silence. Unfortunately, dancers are often stereotyped as speechless creatures. We dance because "it expresses everything we cannot say in words." Here at BDF, we're deconstructing that stereotype.
Arguably, without clear intention, deliberate creative power is difficult to come by. In order to bring intention into being, dancers must have the ability to articulate ideas both physically and verbally. Luckily, writing and dance exemplifies a successful marriage.
Each step of the writing process correlates to a step choreographers use when creating dance:
Writing
Dance
Brainstorming IdeasResearch

Trying out words or phrases

Sequencing into first draft

Revising

Editing

Final Draft/Publication

Evaluation

Brainstorming IdeasResearch

Trying out movements

Sequencing into beginning, middle, end

Revising, rehearsing

Clean-up rehearsal

Performance

Evaluation
(source: Public Schools of North Carolina)
As dancers, we might not always verbalize our ideas in performance. However, it's important to remember that this is a choice. Dance is all about a series of choices. The power of dance is found in utilizing words and encouraging the development of multisensory human beings.
This post was written by Ashley Yergens. Ashley is a Social Media Intern for the 2014 summer.