2015 Season Preview
The Festival kicks off its 2015 Performance Series, July 10 & 11 with DanceNOW featuring fresh voices from a new generation of Festival faculty and alumni. Next up, Sean Dorsey Dance breaks ground with "The Missing Generation," a dance-theater work exploring the impact of the 1980's AIDS crisis.
Another season highlight is the New England debut of Delfos Danza Contemporanea Mexico's leading contemporary company performing "When Disguises Are Hung Up," a reflection on appearances and the loss and rediscovery of the self.
On July 31 & August 1 Robert Moses' KIN returns to our stage with "NEVABAWARLDAPECE," a full-company work of urgent, pulsing energy that explores critical moments of change in America's liberation movements, insurrections and revolts.
The season also includes annual audience favorites: Different Voices, The Musicians' Concert, Moving in the Moment and the Festival Finale showcasing new works by Festival choreographers and our Youth Arts Program. Mark your calendars today for a not-to-miss feast of thought-provoking performance.  For full details visit: BDF Events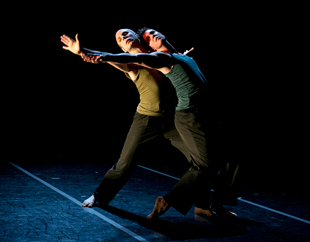 Dorsey Digs Deep
In preparation for his summer residency, transgender choreographer Sean Dorsey is connecting with Maine's multi-generational LGBTQ and HIV/AIDS community with support from the National Performance Network Community Fund and Bates College's Harward Center for Community Partnerships. Dorsey spent two weeks in residence at Bates last September teaching classes; attending gatherings with students, faculty and community members; and performing his moving work, "The Secret History of Love."  He returns this May to offer a series of "Telling Our Story" community workshops in collaboration with the Frannie Peabody Center, Pride Portland, The Telling Room and WMPG. BDF is a proud co-commissioner of Dorsey's new work, "The Missing Generation," which will have its East Coast premiere at Bates on July 16 and 18.  Dorsey @ BDF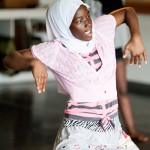 Leverage Your Gift of Dance for People in Need
Have you ever wondered about people in our local community who want more access to the Bates Dance Festival, but can't afford it? They exist, and you can help bring more dance to their lives by making a gift as part of our matching gift campaign. This Spring BDF aims to provide low-cost and complimentary concert tickets to members of Maine's LGBTQ and HIV/AIDS community to attend Sean Dorsey's premiere, and scholarships for local youth to attend our Youth Arts Program. This effort builds upon our community residency activities with San Francisco's award-winning choreographer Sean Dorsey, as well as our ongoing partnerships with local schools and Tree Street Youth to increase access to live dance. Generous core support has been provided by the Leonard C. and Mildred F. Ferguson Foundation and the Sequoia Foundation. Your gift made by May 30th will help us reach our matching goal of $7,500. Make your tax-deductible contribution online today: SUPPORT BDF!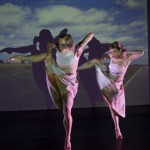 Nurturing the Field: Emerging Choreographer's Program
Since 1993 BDF has been offering creative residencies by invitation to promising dance makers from New England and across the U.S. on an invitational basis. The program offers emerging choreographers focused time to research and create new work, professional development resources, and an opportunity to build relationships with peers from across the country and around the globe. This summer BDF will host Kellie Lynch, Scotty Hardwig and his collaborator Keanu Forrest Brady, and Bliss Kohlmyer and her dance partner, Kara Davis, who will share their work during our Different Voices concerts on Aug 6 and 7.
Kellie Lynch is a New Haven-based artist who has been dancing and touring across the US and abroad with Adele Myers & Dancers since 2008 and with Doug Elkins Choreography, Etc. since 2010, making stops at notable dance venues such as American Dance Festival, Jacob's Pillow, The Joyce Theater, WhiteBird Dance, and the Bates Dance Festival. Her residency is supported in part by the New England State Touring program of the New England Foundation for the Arts.
Scotty Hardwig is a dancer, choreographer, digital media artist and Artist-in-Residence at Middlebury College who hails from the Appalachian mountains of Virginia. He uses the body as a medium and various technologies as mediators to explore the relationship between the flesh and the digital, the human and nature, and the self and the other. Scotty's choreography seeks to find the boundaries of what is human in an increasingly fragmented time.
Bliss Kohlmyer is the co-artistic director of project agora, a San Francisco basedorganization that presents interdisciplinary work. A Juilliard graduate, Bliss has danced and toured internationally with Bill T. Jones/Arnie Zane Dance Company and Sean Curran Company. In San Francisco, she danced with Janice Garrett and Dancers, Robert Moses' Kin, and The San Francisco Opera Ballet. Bliss is an Assistant Professor of Dance at The University of South Florida. See who else we've hosted: Emerging Choreographer's Program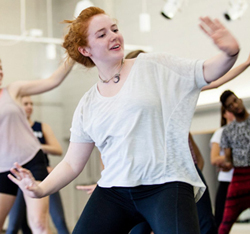 BDF Intern Profile: Regan Radulski
Bates College graduating senior, Regan Radulski, a native of Topsham Maine, has served as our fabulous administrative intern since 2012. An accomplished ballroom and modern dancer, Reagan has been an invaluable member of our team, taking on increasing responsibility to facilitate our enrollment process while learning the ropes of running a festival. We wish her well as she leaves us this fall to continue her studies.
"From my association with BDF, I've gained an in-depth knowledge of the many details that go into running a major dance festival. I'm pleased to say that I plan to continue to develop the skill set I learned at BDF at Boston University while pursuing an M.S. in Arts Administration."
The Bates Dance Festival advances the work and life of dance students, professional artists and public communities by cultivating opportunities for learning, creativity and connection in a supportive and diverse dance and performance environment. Copyright © 2015 Bates Dance Festival. All Rights Reserved.